EXHIBITION DESIGN . PRINT DESIGN
ColourNext 2018
ColourNext is the annual colour forecast for Indian interiors. Targeting architects and interior designers through an exhibition, digital and print media, this excercise has been instrumental in positioning Asian Paints not just as a manufacturer of paints but a market leader and proactive visionary.
Floor Plan
Area : ~700 Sq metres
Design Associate (Exhibit layout)
STUDIO MERAKI
Colour of the Year : Passion Flower Passion Flower is the luminous colour of 2018. Grounded, with an ever evolving halo of light. Its glow, quietly receptive in the sun, and reflective in the shade. A colour that attracts and emits positivity, with a spark in it. A colour that seeks the lucid, an triggers discovery. A gold-tinged ray of hope, from the core of the earth, to the core of our being.
CafeNext
The idea was to integrate the cafe structure with the Colour of the Year, Passion Flower. Tall, inviting structures shoot into the sky, with etched layered fabric panels in the colour of the year. An interplay of levels of translucence lends to a dynamic element, where the visitor experiences a range of tonal variations of the colour, just by walking around the space. The backlit fabric panels beautifully reflect the amberesque glow of Passion Flower.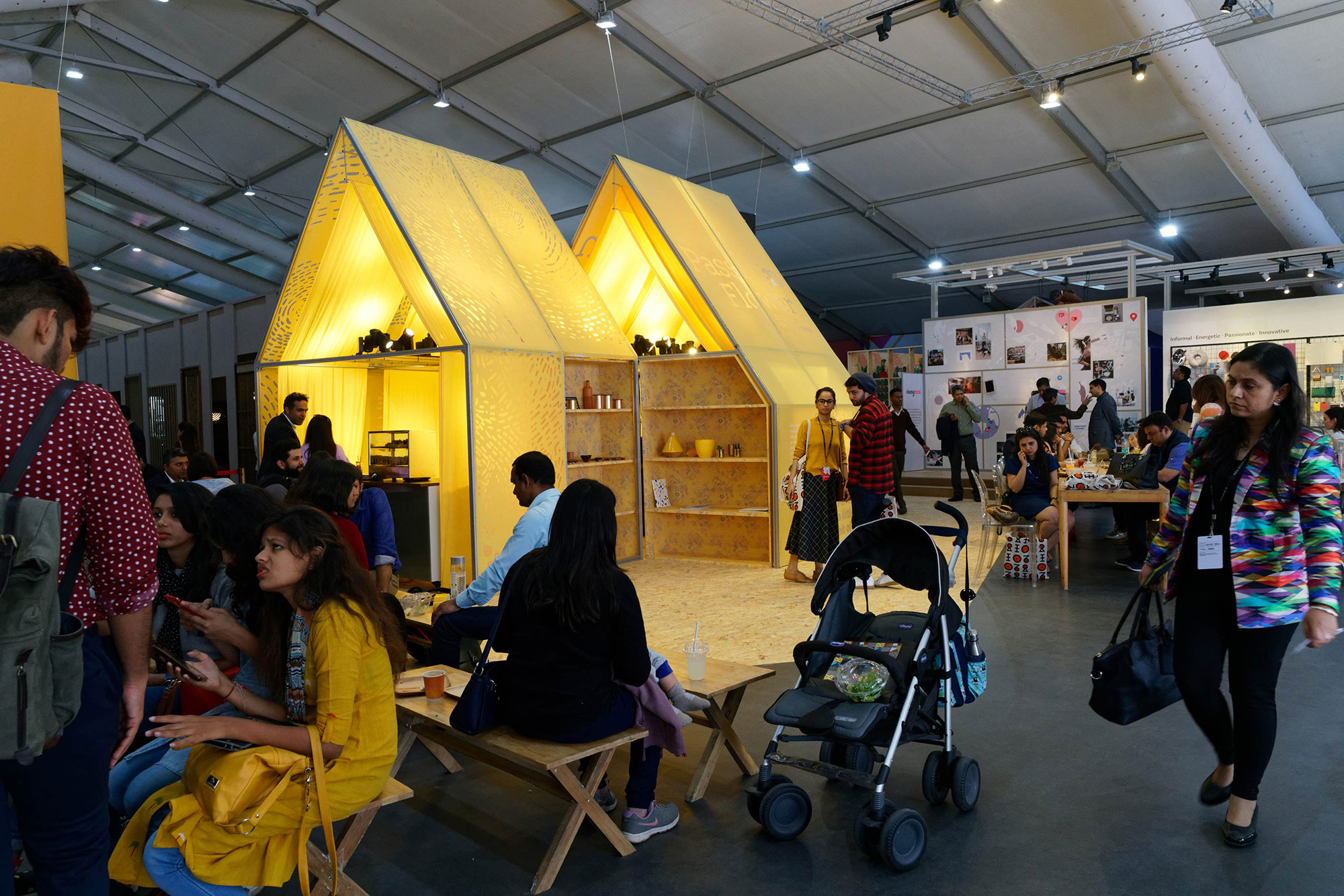 Alchemy of Memories
Of people and places, of myths and mysteries. Of that which we may not find in the fraying pages of public libraries, but in conversations with everyday people. We are reimagining the past through personal histories. A generation that's racing around making memories, is realising that memories make us.

A charming wall swaying between reality and fantasy, holding not just gems and memories of the past, but also ideas and thoughts, in visuals, words and textures, illustrates the theme story of Alchemy of Memories. Photographs, recipes and jewellery give the visitor a peak into lived experiences, intimate and collective while a desk bureau, with a stack of postcards meant to share memories on, transports them to a different time.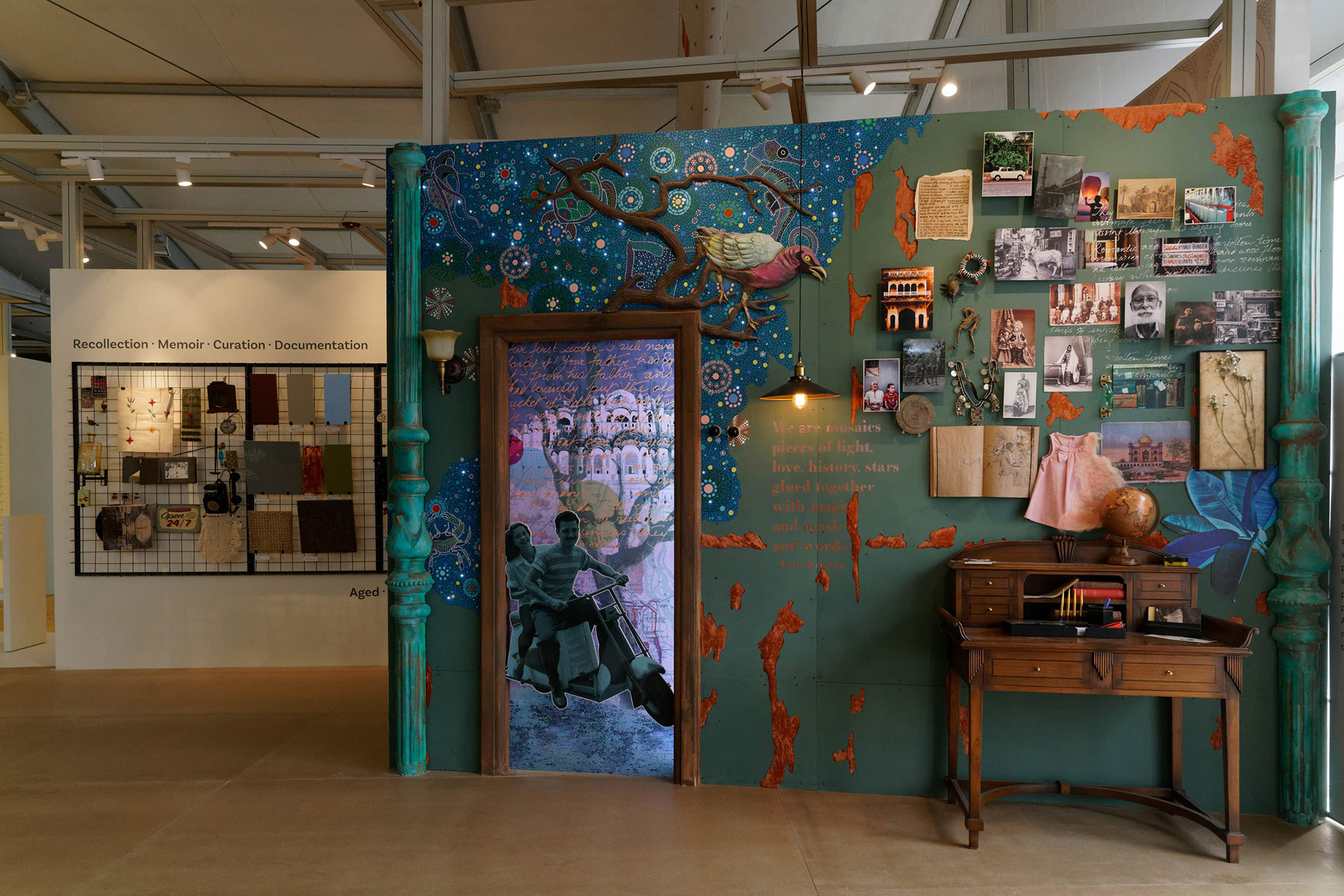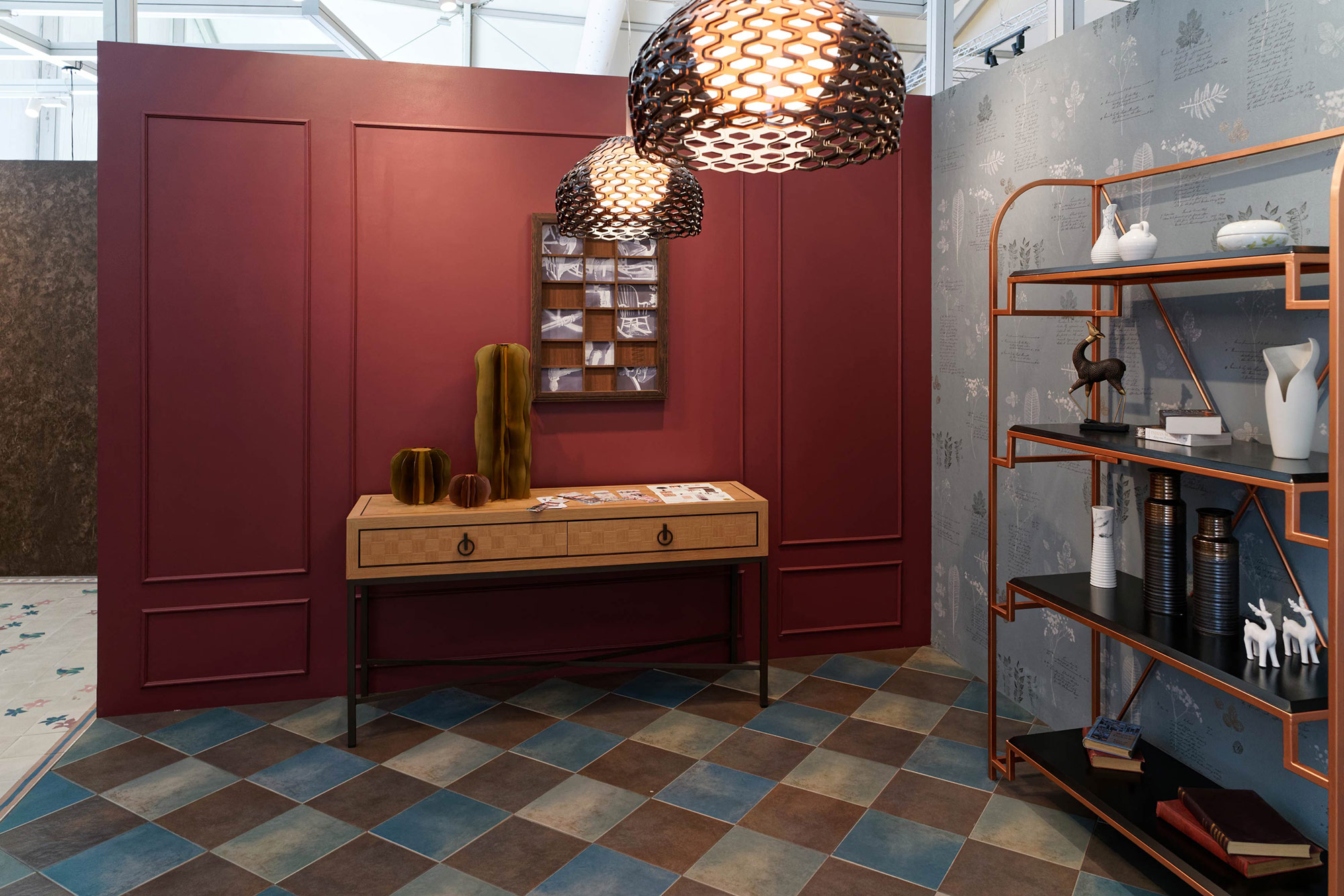 Curated Products from :
ALES DAVIS STUDIO, ROCHE BOBOIS, LASVIT AND FOSCARINI (from Vis-a-Vis lights), BOCONCEPT, MUKUL GOYAL, AT-TIN STUDIO, BHARAT FLOORINGS, NITCO, THIS AND THAT, THE CARPET CELLAR, WARI WATAI
Busy Cool

A day at the co-working space is punctuated with #fitnessgoals. Everyone's doing the new and the now, and the multifaceted post their stories for the world to envy. All that matters is that you do what you love what you do, because #YOLO.
The story of Busy Cool is represented through a collage of photos, illustrations, text and motion graphics, all carefully composed to create a modern, fresh and inviting visual. While the use of acrylic with a hint of aluminium gives it that cutting edge feel, the screen-printed graphics in white and halftones in the forecasted colours add to the warmth and comfort aspects of the story.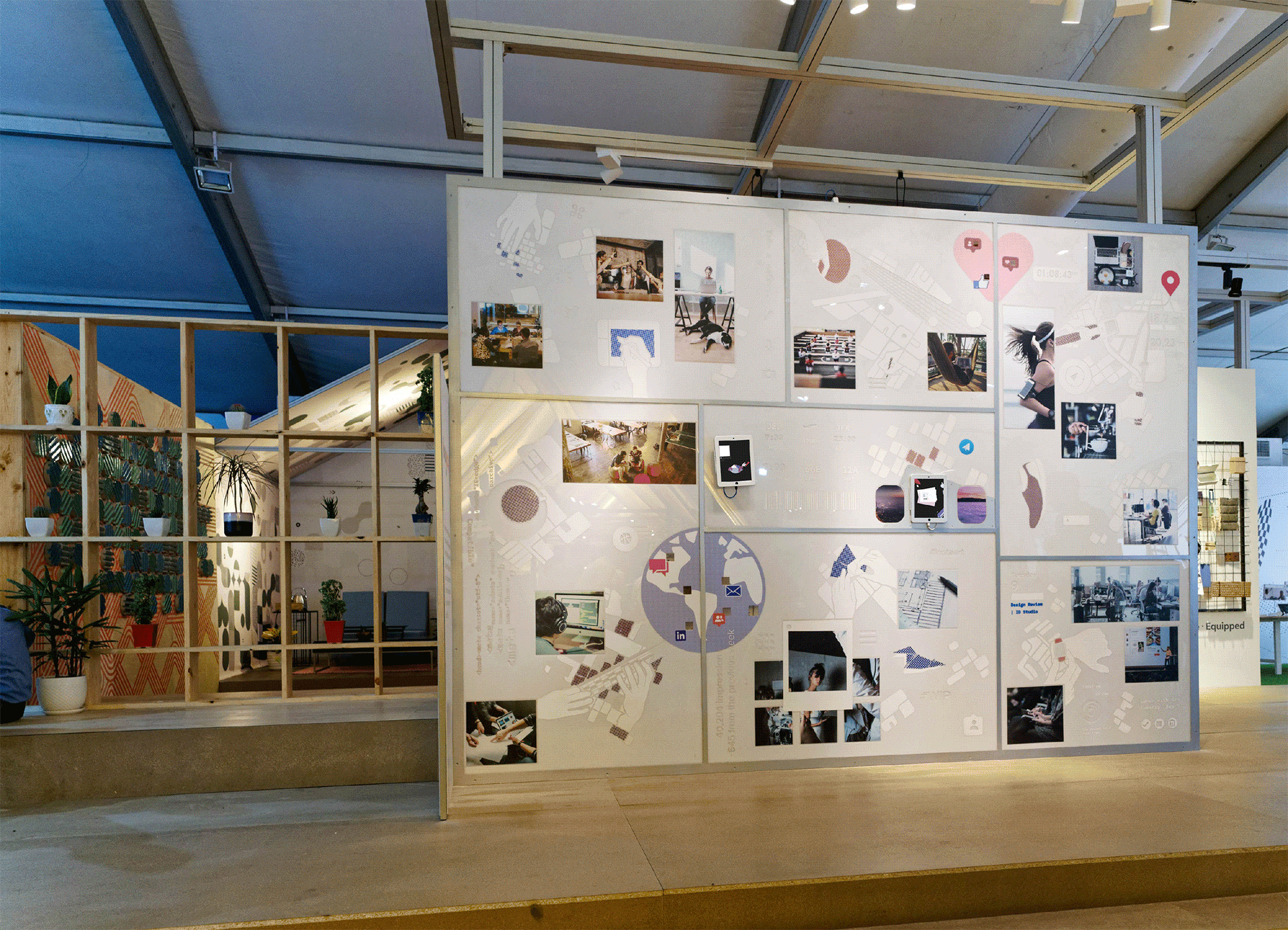 Motion Graphics : Anicipate

Curated Products from :
VITRA, BOCONCEPT, POLTRONA FRAU, FORBO, FLOS (from Vis-a-Vis Lighting), LOUIS POULSEN (from ALC Lighting Solutions), ESTABLISHED AND SONS (from Vis-a-Vis Lighting), RUBBERBAND, WARI WATAI
Humane
When everything we need is at the touch of a screen, we are yearning for the touch of true emotion. Beyond pings, likes and hearts, we are looking for genuine connections. We are returning to seek the human. Imperfect, vulnerable and beautifully real.

The story of Humane is represented through an installation of suspended sheer fabric with hand felted human forms that create a composition almost like a soft, pastel painting.
In the background is a large piece of felted fabric illustrating a sky with various colours merging and creating cloudforms.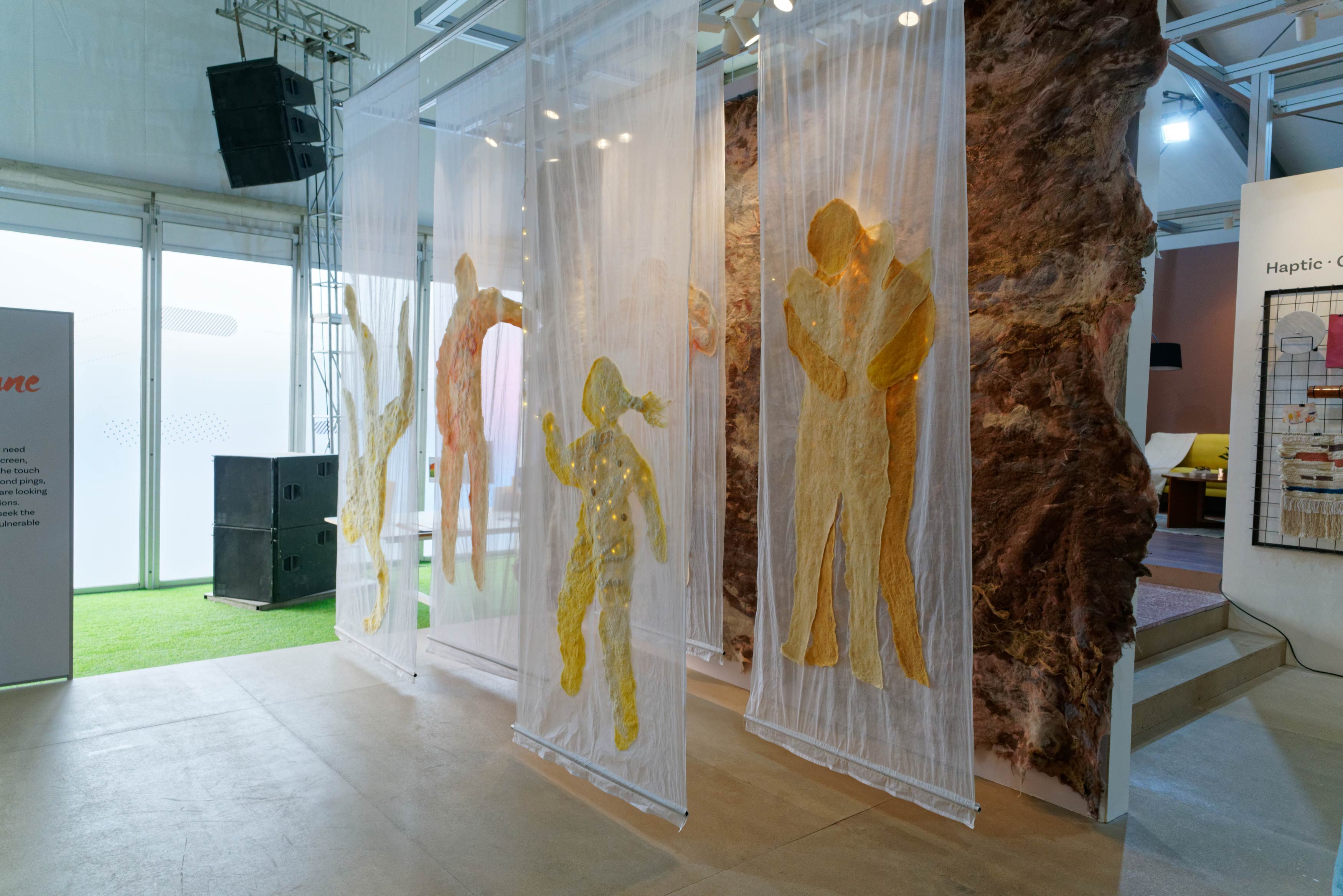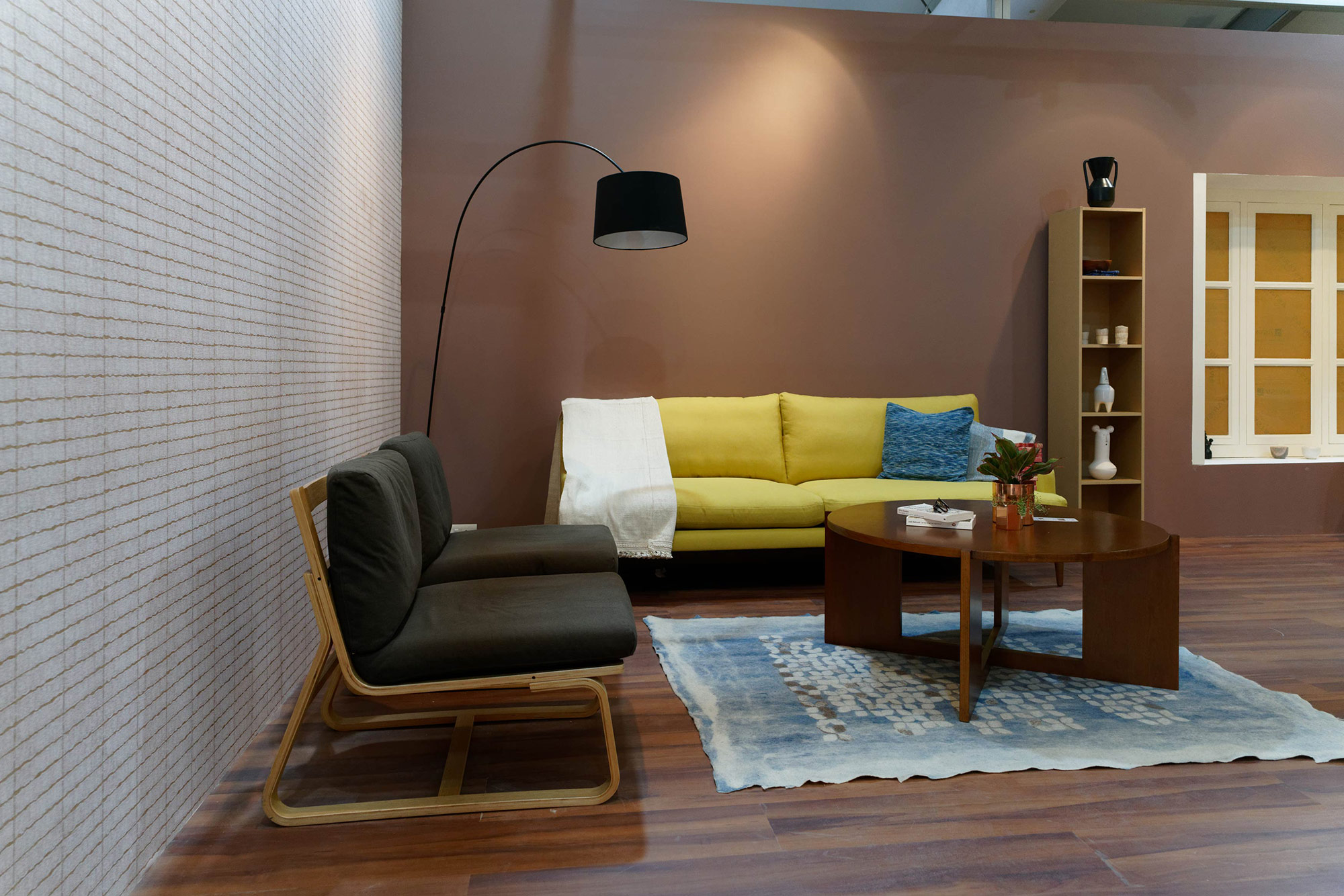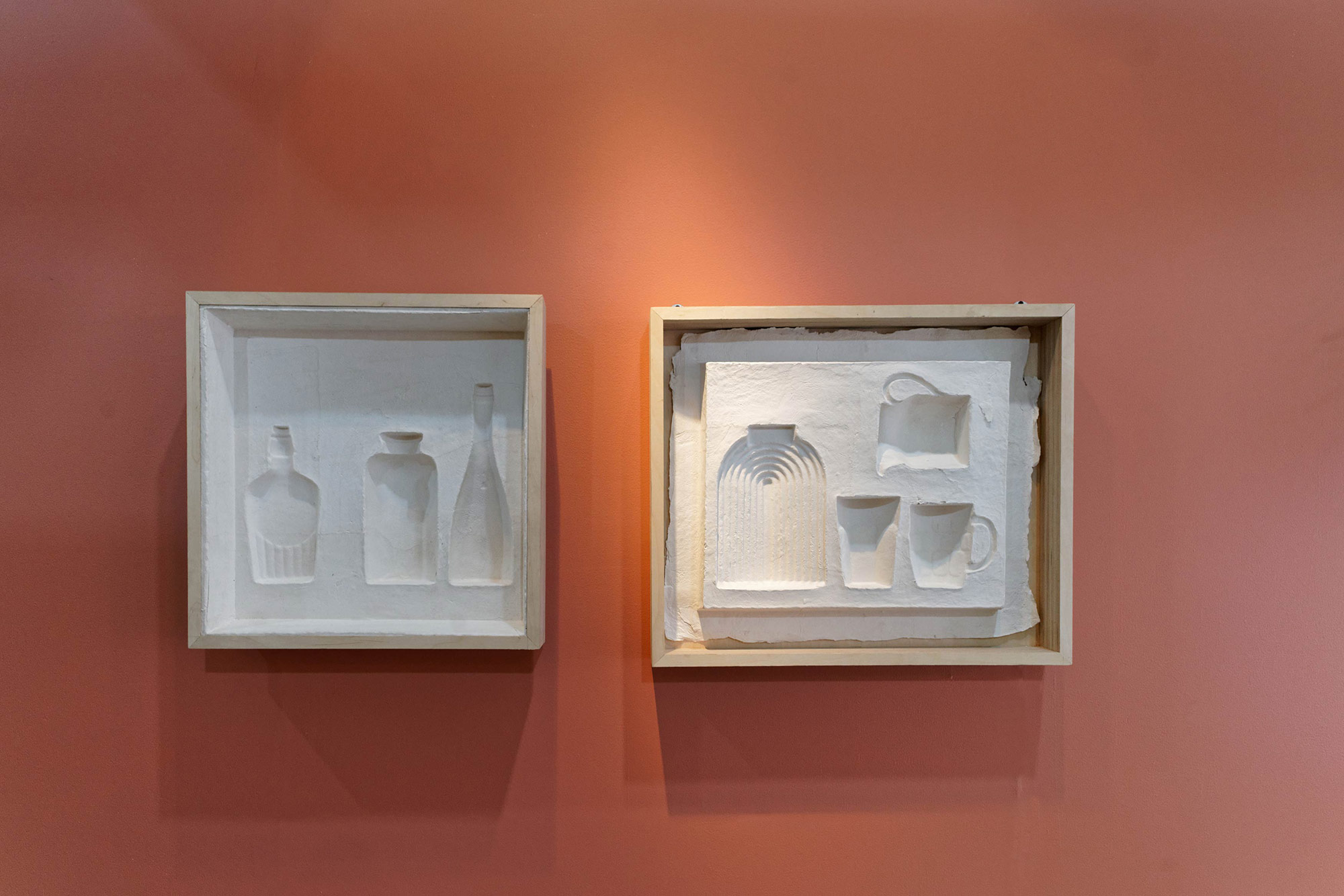 Curated Products from :
IQRUP AND RITZ, BHARAT FLOORINGS, UNNU TEXTILES, LOUIS POULSEN (from ALC Lighting Solutions), SANGARU, WOVEN THREADS, BOCONCEPT, CLAYMEN, KOY STORE, WARI WATAI
Untamed
The biggest political, social, spiritual and celluloid celebrities of our times have thrust us into the unapologetic theatre of the absurd. The irrational has gained legitimacy. It's difficult to tell the puppet from the puppeteer, but it's easy to see they have the world strung up.
The Untamed story comes alive through an over-the-top typographic treatment of an audacious message. The idea was to dress each of these words in visuals and textures that further illustrate the loud and bold character of the theme, framed in bright bulbs that unabashedly say, "all eyes on me".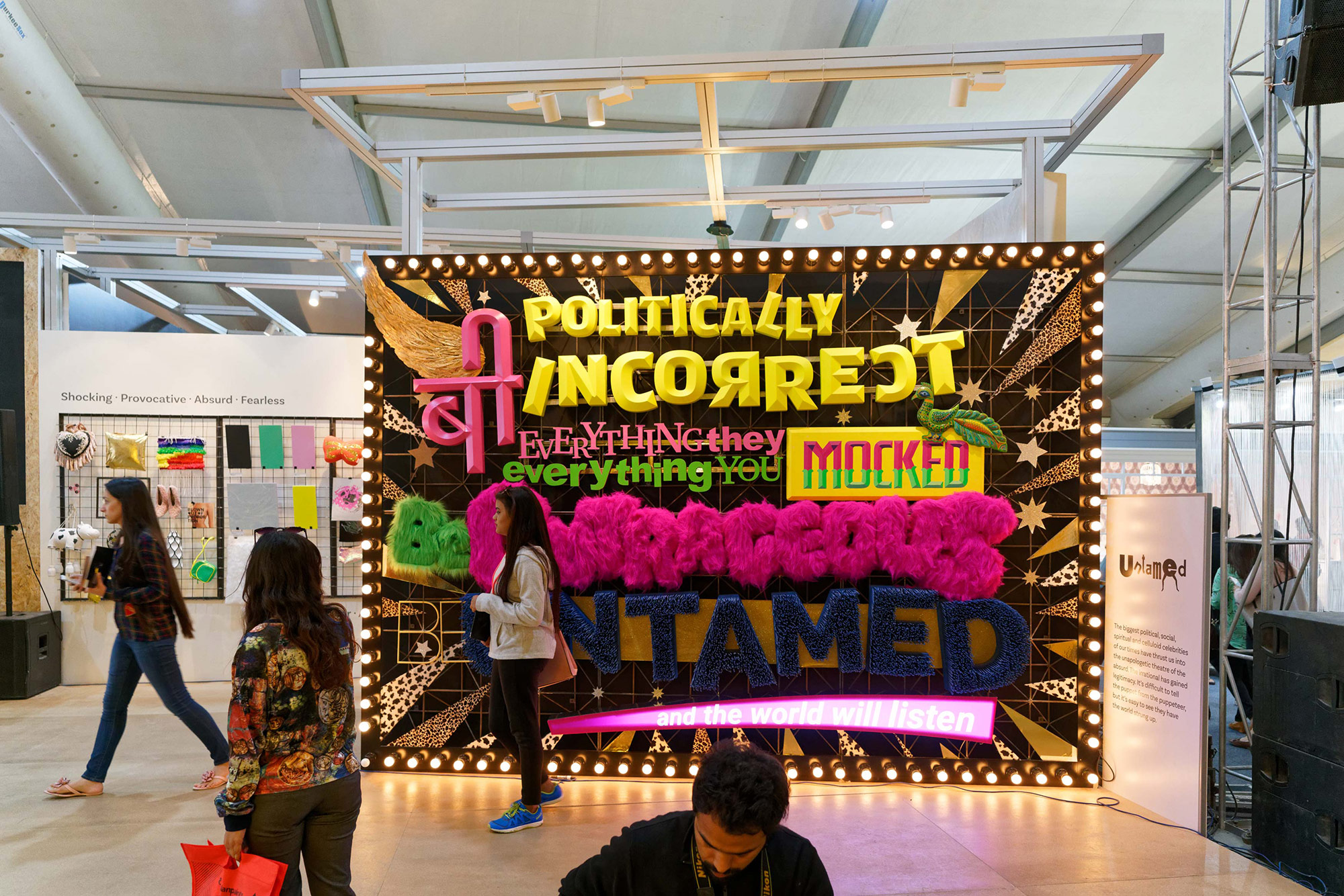 Curated Products from :
ROCHE BOBOIS, SCARLET SPLENDOUR, LASVIT (from Vis-a-Vis Lighting), ALEX DAVIS STUDIO, SLAMP (from Vis-a-Vis Lighting), KOY STORE, WARI WATAI
Decor Products by Wari Watai
COLOURNEXT 2018 TREND STORIES . PRINT DESIGN

Lookbook 2018
The lookbook-workbook is a concise and handy reference, complete with theme stories, visualisations, moodboards and swatches designed to inspire designers across disciplines and contextualise colour, material, finishes and textures for the year to come.